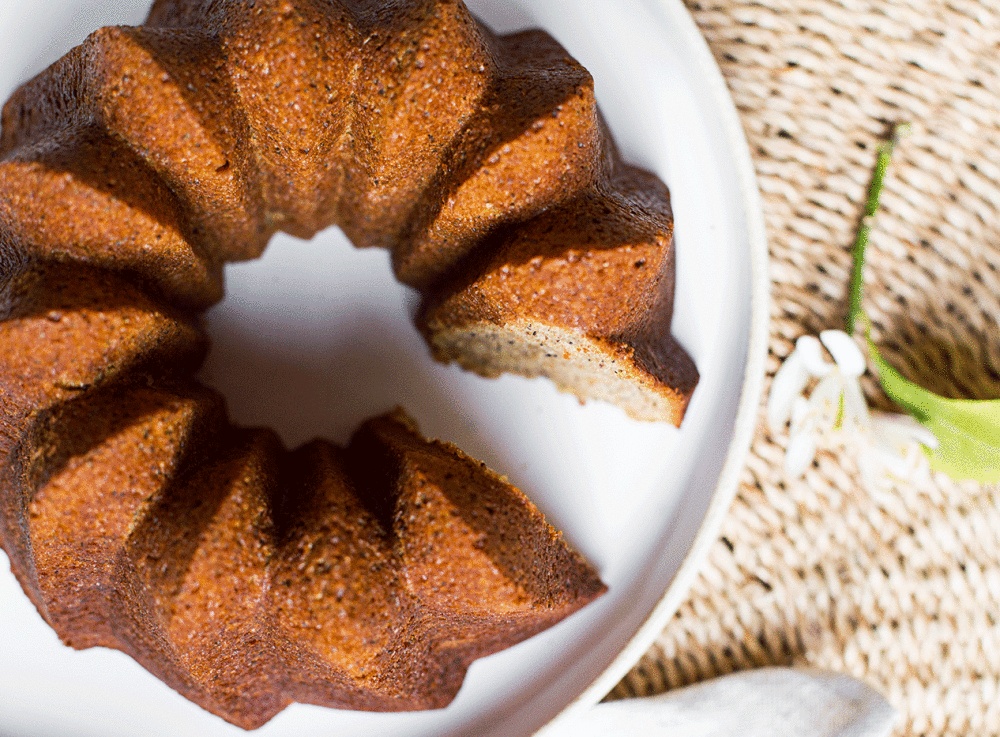 breakfast+snacks / recipes / sweet+desserts / vegan / vegano
We all need a good lemon cake recipe. We can have a more traditional one and this one. It is light, lemony and surely, healthier. I don´t like to tag myself or what I do, but sometimes it is important so that my followers, who can have different diets, know if a recipe is good for them. So lets tag this cake as vegan. And let me remind you that I am not vegan, but my purpose is to make healthier versions of what can be available with always whole ingredients and that always always tastes great. There are times when a recipe needs eggs and there are no possible substitutions. But in this case I found something that every one, well except maybe celiacs, could follow without making substitutions.
The original recipe comes from a vegan pastry chef I really like called Fran Costigan. She has an orange cake that was a favorite in my latests workshops. Looking for a lemony version, I made another recipe from her book but wasn´t as good as I expected. I began to change every single measurement, adding new ingredients like poppy seeds and almonds and ended up with something totally different that was much more of my liking. I admit I love citrus and sour flavors, so it was really a priority  that the cake had these two important characteristics. Besides having a good texture of course.
So after a few trials I ended up with this delicious version that can be served on its own or with the chocolate sauce I share with you to make it more decadent but still not very heavy. You can also use it to cover the top of the cake and decorate it with some cacao nibs for example.
A great companion would be an earl grey tea and good company. Everything tastes better when you share it. I hope you enjoy it.
Ingredients
160 gr whole spelt flour
100 gr white spelt flour
60 gr almond flour (homemade)
2 tbsp poppy seeds
2 tsp baking soda
1 tsp baking powder
1/2 tsp sea salt
3 tsp lemon zest
200 gr maple syrup
70 gr virgin olive oil
180 gr coconut milk
95 gr lemon juice
2 tsp vanilla extract
2 tsp apple cider vinegar
:::::::::::::::::::::::::::::::::::::::::::::::::::::::::::::::
chocolate sauce:
100 gr 64/72% chocolate
50 gr coconut butter
1 tsp virgin olive oil
Instructions
Preheat your oven at 180ªC.
Grease your chosen bundt mold.
Grate 3 tsp of lemon zest and make the juice measuring 95 gr. Set aside.
Make your own flour with the almonds in a high speed blender. Just a few seconds or it will release all the oil and turn into a butter.
Put this flour in a medium bowl with the rest of the dry ingredients: flours, seeds, baking powder, baking soda and salt. Whisk everything together to aerate.
In another bowl whisk together the rest of the wet ingredients along with lemon zest and juice.
Pour the wet mix over the dry mix and stir slowly with a whisk. When it is well combined, scrape the batter into the prepared mold and bake for 35 minutes or until a toothpick inserted near the center comes out clean.
Let it cool for 15 minutes on a rack, remove the mold and let it cool completely.
To make the chocolate sauce you just have to melt the chocolate and coconut butter in a bain marie and when it is melted add the olive oil and stir to combine everything together. Let it cool for 20 minutes. You can serve it like this or let it cool a bit more until the sauce is more dense and you can pour it over the top of the cake letting it drop over the sides.
Enjoy.