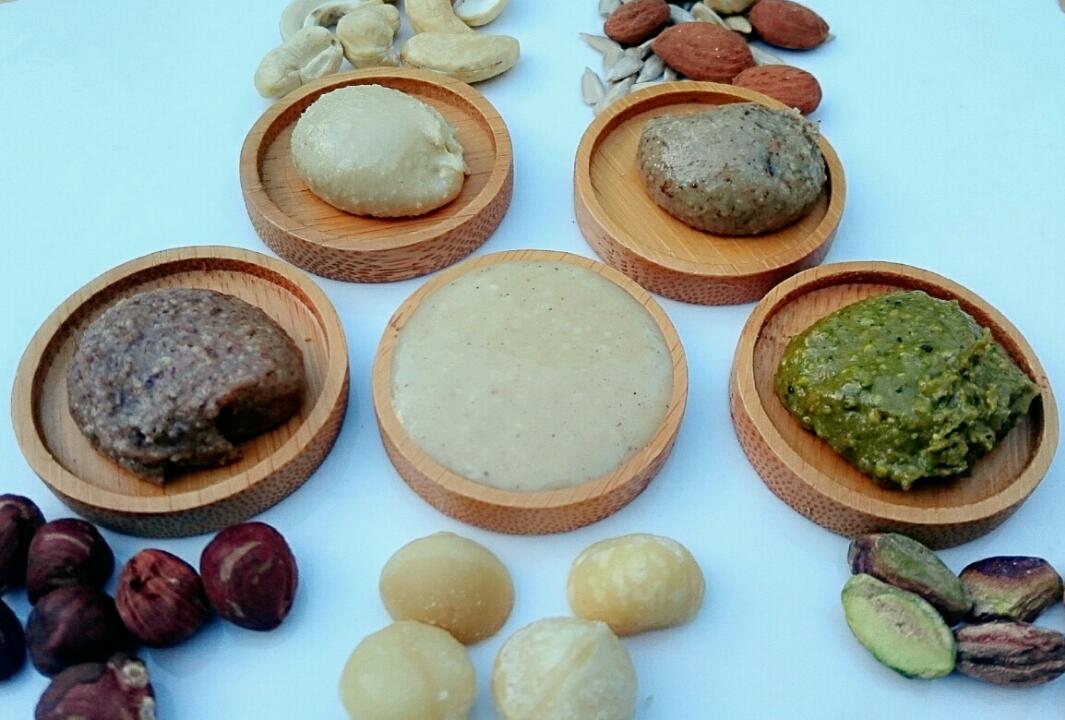 breakfast+snacks / recipes / side dishes+dressings / glutenfree / vegan
I have talked about that several times before, how it is not worth buying certain things because they are very expensive and are easy to make at home. It is true that you will need a powerful appliance, and that it is not enough to have an electric beater. You will need a food processor (like the one in the photos) or a thermomix. I own both of them and although the thermomix is much faster and can get it done in 5 minutes, the food processor will do the same with a bit more of patience. The thing you shouldn´t forget, apart from the omnipresent patience, is that when blending, you will need to get down the mix which gets stuck to the walls. You can´t make small amounts because the appliance will not be able to work with them, so you will need to make at least 400 grams every time. It is a work worth doing, because being a concentrated product, it will last for a long time. This recipe I am sharing with you today is the mix I like to make in order to have always some on hand in my kitchen. The important thing to remember is to use the same technique for whatever you choose.
And what is the best and most pleasurable thing? That  you will be able to make all your favourite
mixes! You can use different nuts or seeds depending on your mood or according to the recipe you have in mind. While writing this article, I have discovered the incredible taste of the macadamia butter, besides realizing that it is the one which requires less time to be "buttered" because of its fat content. Apart from that, it will also gives you the finest texture. Testing it and looking at the white colour it came to my mind the sugar-free frosting of the carrot cake! I will use macadamia the next time I make it… Try it, really, it is amazing, it looks like white chocolate. If you make some crepes or pancakes I would advise you to spread a bit of macadamia cream with a drop of maple syrup…it is pure pleasure! You can also use it in the same way for the kid friendly sandwich.
And it is good not only as a spread, there are innumerable recipes where you can use them:
• Adding a spoonful to a vinaigrette or a sauce.
• For cookies, such as the almond or gratitude cookies where you can change the flavour of the cookie according to the type of nuts or seeds you use.
• Energy chocolate or multi-seeds bars.
• To make hummus with a different type of seed.
• As a filling for a chocolate.
• To make your own "nutella".
All in all, you can do whatever you have in mind or your imagination wants to create. You will see how once you get used to it, you will never buy it again.
Go for it and let me know which one is your favourite!
Ingredients
200 gr of sunflower seeds
200 gr of almonds
100 gr of cashews
50 gr of pumpkin seeds
1/8 tsp of salt
instructions
Roast the nuts and the seeds at 175ºC in a wide bowl, for about 10/15 minutes, stirring up a couple of times. It is not necessary to toast them a lot, it is enough for them to get a bit of colour and aroma. Let it cool down completely.
In a food processor or thermomix, add your mix of nuts and the salt. Mix everything at half power. Every minute you will need to get down whatever gets stuck to the machine walls. This last step is the most important one!
Depending on your machine (in the thermomix it will take not more than 5 minutes and in a processor it can take up to 15 minutes) you will see how a paste is getting formed. If you see that the mix is getting warm, you could remove the cap from the place through which the food and liquids are introduced.
You will need to be patient!
When it gets bright (which it means it will have realease the fat) and creamy, it will be ready and you will be able to keep it in a crystal glass. Whenever you see that it has got a bit of colour, let it cool down completely before covering it and placing it inside the fridge. It is normal for the texture not to be super fine because we are not using an industrial machine.
Enjoy!