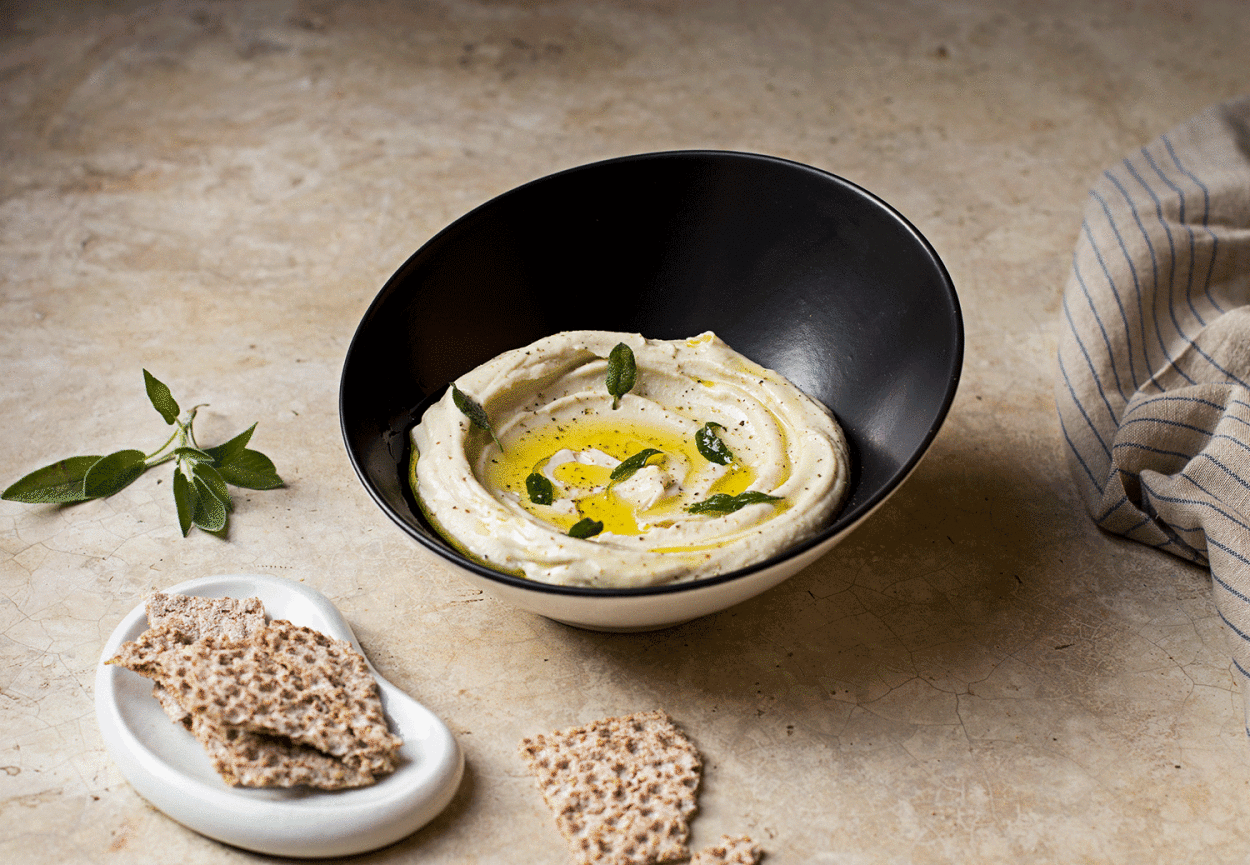 main dishes / recipes / side dishes+dressings / gluten free / vegan / vegano
Althought I recently said I woudn´t translate this blog anymore because it is too much work for my actual projects, I have to admit that it makes me sad not to share recipes like this one, which is so easy  to make. So I have decided that if I have a short recipe to share and I have time to translate it in a short post, I will do it.
I am a big fan of humus and dips, they are so handy, versatile and make a touch of flavour to any simple dish you want to make, and are also great veggie burguer companions. Here or here you have another good example from the blog.
I hope you enjoy this one it as much as I do!
Ingredients
400 gr raw cauliflower
150 gr cooked white beans
2 big garlic cloves
9 sage leave
3 tbsp virgin olive oil
1/4 tsp (or un 1/8 tsp depending on your spicy liking) chili flakes
3 tbsp+1 tsp lemon juice
2 tbsp tahini
1+1/2 tsp sea salt
///////////////////////////////////////////
6 sage leaves to decorate
2 tbsp virgin olive oil
freshly grounded black pepper
Instructions
Chop the garlic and sage leaves and transfer to a pan with the olive oil and chilli flakes. Heat under very low heat for 30 seconds. Take off the heat and set aside for 30 minutes into a small bowl.
Meanwhile, steam the cauliflower chopped into florets for 10/15 minutes.
Make the lemon juice.
In a high speed blender mix the cauliflower and juice with the rest of the ingredients (along with the reserved oil, sage and garlic) until creamy. You may need to add a couple of tbsp of water if it is too thick. Transfer to a container and leave in the fridge for at least 6 hours.
Before serving, fry the 6 sage leaves in a small pan with 1 tbsp of oil, for 20 seconds or until crispy. Leave over kitchen paper to absorb extra oil.
On a pretty bowl pour the humus and decorate with the back of a spoon. Drizzle some oil, along with some grounded pepper and the sage leaves.
Enjoy!