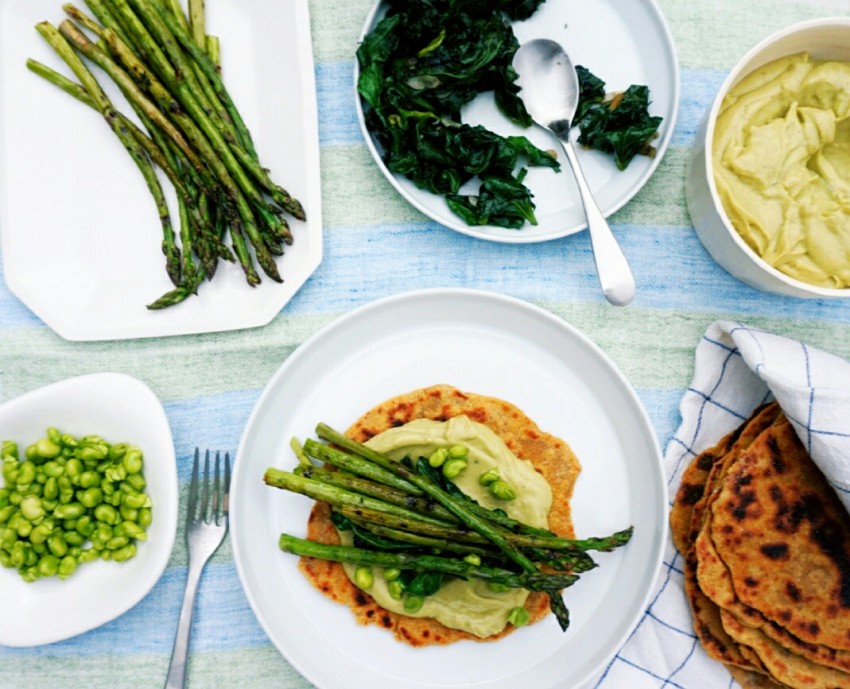 main dishes / recipes / Uncategorized / gluten free / vegan option
Usually, when I am angry, going to the kitchen gets me calmer than my yoga classes. I just jump out of bed, tell everyone I need to be alone and head to the kitchen with a few ideas that need to come out and  take  all my nervousness away. And it really works! I take a deep breath before I start, and let it all flow. I don´t even need music. Just silence, pure concentration and presence. They say this is meditation, so this is why it is so helpful for me, and this is why it is my profession too!
I can have a more or less concrete idea about what I am planning to do, but the details come to my head during the process. All that information I have registered by reading, experimenting, testing, comes out and interacts in my head . I know there will be avocado in the final dish but not how it will end up.
I love chapatis, rotis, pitas and all the flatbread family. The only clear thing I had that morning, was there would be a buckwheat roti involved, and some sweet potato inside the dough. Roti is a kind of flatbread made with stoneground flour that is unleavened and thicker than chapati. It is traditionally served with hot ghee. (you can find how to make ghee here)  A very talented vegetarian cook called Laksmi, gave me the idea to add something else to a roti dough, with avocado in her case. As I had sweet potato at home I thought that it could be a good addition, because it´s sweetness would reduce the sometimes bitterness of buckwheat, adding some color in exchange.
I have to admit , and it´s not what usually happens, that the first attempt workedout great! I just had to adjust the salt levels, but it was really good. You can not tell there is sweet potato inside but it is smoother in taste than if it is was all made with buckwheat. Don´t really expect to make perfect round rotis, it is perfectly ok to make them perfectly imperfect!
The toppings are really up to you! I choose asparagus, spinach and broad beans because I had them on and, but you can use whatever vegetable you like: artichokes, spring onions, broccoli, coliflour, green peas, zucchini. Everything will go well with the avocado and mustard mayo which is a great addition to really any flatbread dish, and makes a great dip too.
Hope you enjoy making it and get all that mental peace it gave me!
Ingredients
Roti(makes13)::::::::::::::::::::::::::::::::::::::
280 gr buckwheat flour
210 gr cooked sweet potato
30 gr ghee or coconut oil
42 gr water
1/2 tsp +1/4 tsp salt
1/4 tsp fresh thyme chopped
1/4 tsp fresh rosemary chopped
:::::::::::::::::::::::::::::::::::::::::::::::::::::::::::::::
Avocado & mustard mayo::::::::::::::::::
2 avocados = 320 gr pitted
28 gr fresh lemon juice
20 gr virgin olive oil
25 gr dijon mustard
1/2 tsp salt
:::::::::::::::::::::::::::::::::::::::::::::::::::::::::::::::
1 bunch wild asparagus
1 handful of spinach
1 garlic glove
150 gr fresh broad beans
olive oil to sauté the veggies
1 tbsp hemp seeds
2 tbsp of ghee or coconut oil for cooking the rotis
black pepper for the final dish
1 tbsp hemp seeds
Instructions ( 4 people)
For the roti, chop well the herbs. Mash the cooked sweet potato with a fork. You can cook a big one and then weight the 210 gr.
In a big bowl put the flour, salt, herbs and ghee and mix well until you have a crumbly consistency ( 1 minute). Add the water and sweet potato and knead inside the bowl just to gather everything together and you can form a ball. If it is too sticky add a little more flour. Let rest for 30 minutes.
Wash the spinach and let dry.
In a food processor, blend together all the mayo ingredientes until creamy. Keep in the fridge until needed.
Meanwhile sauté 2 minutes the spinach with the garlic and a little oil and salt. Set aside.
Cook the asparagus on a grill with salt and oil , while blanching the broad beans.
Take your buckwheat dough and divide it in 13 balls. With a little flour, flat the balls with one hand ( not less than 3 mm thick).
Heat a cast iron skillet and cook each one, first one side until bubbles appear, turn them and add a little tsp of ghee and turn it again two more times until it has a pretty color. Cover them with a clean dish cloth while you make them. Be aware of burning flour particles that stay in the pan, remove them with a kitchen paper before you make each roti.
Reheat the veggies a little if needed and serve everything together with the avocado mayo and the hemp seeds.
Enjoy!