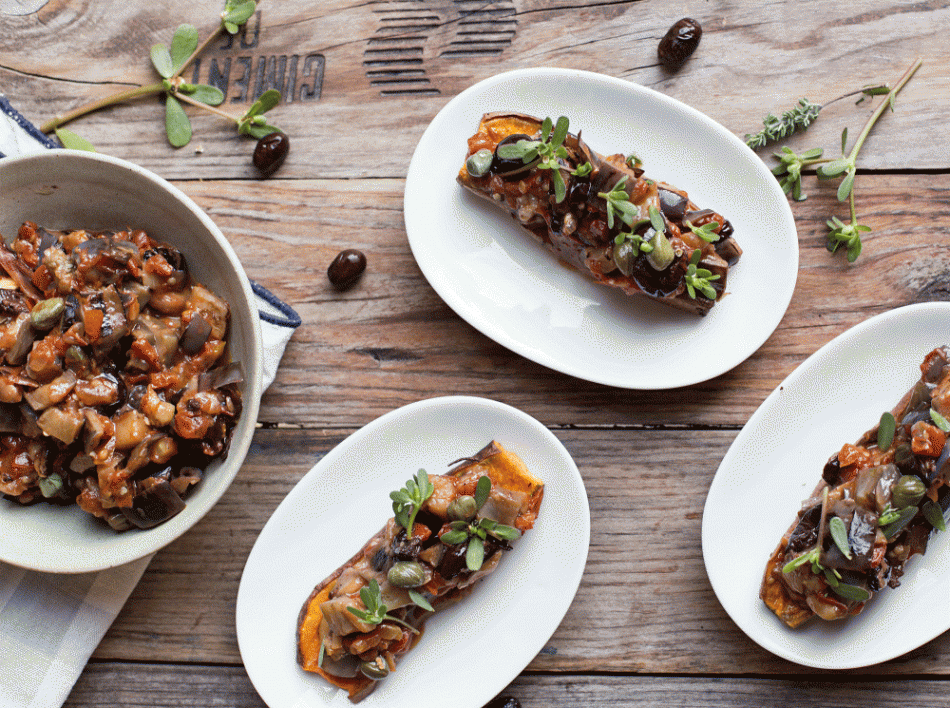 main dishes / recipes / side dishes+dressings / gluten free / vegan
I know we are only a few days from autumn season, but around here, at farmer´s markets we can still find eggplants and tomatoes so I encourage you to make this recipe before it is too late. A few people requested for the recipe so I didn't wait until next summer in order to give it a try because believe me, it is amazing!  The contrast between the acidity from the caponata and the sweet potato is a great match.
I have to recognize the caponata recipe is my husband´s…but this is one of those recipes you need to have in your "best recipes" notebook. Although it is not a quick recipe to make, I can assure you the final result is worth it. Do it on weekend time, let all the family help you or do it as a satisfying moment of your own in the kitchen.
You could also double the recipe and freeze it so you can enjoy it any other time.
To make it a more complete dish you could serve a green salad on the side, some rice (or whatever wholegrain you prefer) and may be a good quality egg if you have big eaters at home.
Ingredients (4/5 servings)
1/4 onion
1 garlic clove
1 small branch fresh thyme
1 small branch fresh rosemary
1 tbsp virgin olive oil
350 gr tomatoes
1/8 tsp sea salt
30 gr white wine
----------------------------------------------
4 eggplants
1/8 tsp sea salt
50 gr virgin olive oil
----------------------------------------------
20 gr onion
6 basil leaves
10 gr white wine vinegar
1 tsp olive oil
1/8 sea salt
----------------------------------------------
20 gr capers
110 gr black olives
balsamic vinegar to your liking
---------------------------------------------
2 large sweet potatoes
coconut oil
fresh thyme
salt
Instructions
The sweet potatoes can be done in advance. Rinse, dry and cut them lengthwise at around 5 cm thick. Distribute them on a tray with parchment paper. Drizzle some coconut oil, salt and fresh thyme.
Bake at 180ºC for 25 minutes. Set aside.
For the caponata begin by peeling and cutting in small cubes the tomatoes discarding the seeds. Set aside.
Chop the onion small and stir fry in a big pan with the fresh herbs and olive oil for 3 minutes. Chop de garlic and add it to the pan, stir a couple of times and add the tomatoes and salt.
Put it on high heat and when the liquid is evaporated, add the white wine to deglaze. When the wine has also evaporated, set aside on a bowl.
Clean and dry your pan to use it now. Cut the eggplants in 1x1 cm and fry them on high heat with the oil and salt.I recommend you to do this in two batches to make sure the it gets a nice color and texture. Set aside.
Chop the onion (20gr) and the basil leaves and stir fry with the oil and salt in the same pan (no need to clean it this time) for 1 minute. Add the eggplant and the tomato you had set aside and cook all together for 5 minutes.
Add the white vinegar and let it evaporate. Take off the heat, put on a bowl or pyrex and let it cool.
Pit the olives and chop them .
When the caponata is cooled add the olives, capers and balsamic vinegar. You can add 1 tbsp of it at a time and try it each time until you reach your acidity level. I like it quite vinegary. Also adjust the salt.
When serving, put a sweet potato layer and some caponata on top. You could also put some rocket on top if you like and/or a poached egg.
Enjoy!