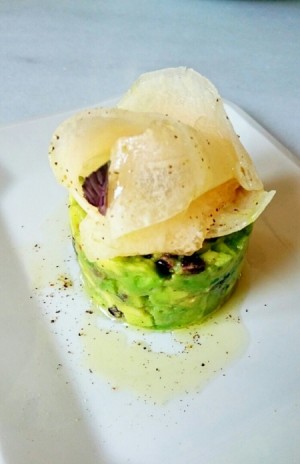 main dishes / recipes / salads / glutenfree / raw / vegan
In the last ten years I have moved home five times and lived in three different countries. In the last five years, I have lived in three different houses near the coast, although not always by the beach. Areas very hot in summer which are in full swing during the season. For many, the summer season is the time to be with the family. But not for me. For me the holidays with the family are always in winter. So now I love the winter!!!! But at this very moment, I love the winter more than ever because this heat is a hell. And I am pretty lucky because I have beaches at less than half an hour from home, but it is just that spending the whole day under the sun is not my thing. Or sooner or later. And believe me, every time I have moved home, the thought of a swimming pool at home was really tempting and somehow unavoidable, especially because I have a little boy and a husband that works really hard. Yesterday I remembered a chat with a friend from Madrid, that was asking me if I didn´t regret not having a swimming pool. And completely sure of myself, I answered with a huge noooo, that I was already used not to have a swimming pool at home: WHAT A LIE!!!! This week, especially this week, I would pay whatever I had to have a swimming pool!!! Ok, it is necessary to clean it, it is expensive, sure, it gets broken, ok, but really, nothing matters to me, I really want one! I have noted it  as a priority for our future house…
Because with this heat, who wants to turn on the fire in the kitchen?????? And I am not talking about the oven. I have been eaten fruit in the morning for the last two weeks and fruit and salad at midday. And I am not on a diet, it is that I can´t eat absolutely anything else. At night I could eat some boiled stuff, but always something light.
Today´s recipe has a lot to do with this situation of extreme heat. The other day my lunch was just half melon. I can assure you it was an authentic pleasure. Remembering some recipe of avocado with mango or peach that I made in the past, it occurred to me that it would be a good idea to combine avocado with melon . In raw nutrition, the melon is a fruit that it gets digested in just one moment and it is better not to combine it with other foodstuff because it can ferment in the stomach and slow down the digestion. But sometimes we can ignore the rules.
Hope you like it and gives you enough energy to fight the heat!
Ingredients (6 servings)
3 large ripe avocados
1/2 melon
1 scallion
150 gr of black olives
3 tbsp of extra virgin olive oil
the juice of 1 lemon
15 leaves of purple basil
1/2 tbsp of salt
1/8 tsp of pepperoncino (optional)
freshly ground black pepper and maldon salt (flakes) to serve on the plate
instructions
Put in a bowl the avocado cut into small squares, with the lemon juice, the olive oil and the pepperoncino.
Chop the scallion very thin (also the green part) and half of the basil leaves. Pit the olives and cut each of them into 3 or 4 pieces. Add everything to the bowl with the avocado.
Peel the melon, cut one half in small squares and add them to the avocado, and also cut the other half into thin layers of about 1mm. If you have a mandolin slicer you can use it although a very sharp knife is more than enough. Let it stand in a plate.
To get them individually ready for the plates, take a ring and add 3 soup spoons (this would depend of the size of your ring) of the avocado mix, pressing it softly. Do the same with the rest of the plates.
Place carefully thin layers of melon "carpaccio" over the avocado turning them till they look pretty.
Add a bit of olive oil, freshly ground pepper, some salt flakes and a basil leaf.
Enjoy!